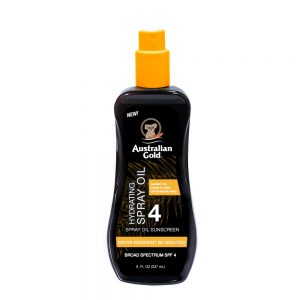 SPF 4 Oil with Carrot Oil is ideal for those wanting to help protect skin from burning, but achieve a deep, golden tan.
Australian Naturals:  With the highest Vitamin C content of any fruit, Kakadu Plum is known to promote collagen production while helping protect from free radicals. Tea Tree Oil, a powerful antioxidant, contains natural odor fighting properties to leave skin fresh
Aloe Vera: Provides natural soothing and conditioning skin
Carrot Oil: Rich in antioxidants, calms and moisturizes skin
Fragrance: Take an instant vacation with the signature Cocoa Dreams fragrance. This delectable scent is a delightful combination of Coconut, Orange, and Vanilla.