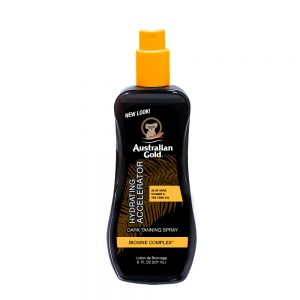 Hydrating Accelerator Spray Gel is a premium formula designed with Biosine Complex® to deliver intense, dark color.
Australian Natural: Tea Tree Oil, a powerful antioxidant, works to gently cleanse for smooth skin
Biosine Complex®: Proprietary blend of premium ingredients prepares skin for dark color development
Aloe Vera: Provides natural soothing and conditioning to skin
Vitamin A & E: Excellent antioxidant works to guard against free radicals.  Ultimate hydration and skin benefits
Fragrance: Take an instant vacation with the signature Cocoa Dreams fragrance. This delectable scent is a delightful combination of Coconut, Orange and Vanilla.
Note: This product does not contain sunscreen